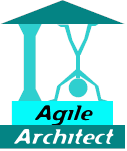 Welcome to the Agile Architect Website!
Bringing Agility to Architecture, and Architecture to Agility
Links to Other Sites
Agile Architecture and Modelling
I support the Agile Modeling and Agile Data work being led by Scott Ambler. These two sites are among the best other resources for agile developers interested in modelling, architecture and architecture issues.
The Agile Alliance is an organisation dedicated to promoting agile development methods. Not everything they say is right for the Agile Architect, but it's still a good source of ideas and other links.
Application Architecture - General
The following are good reference sources on topics related to software architecture:
User Interface Design
I take an active interest in issues around user interface design, and how people interact with computer systems. To my mind, one of the most important initiatives in recent years is the Expressive Systems movement lead by CSC's Richard Pawson. You can read my review of his book, or visit the Expressive Systems web site:
Larry Constantine and Lucy Lockwood's site, ForUse, is a very good source for lots of information on software usability and how this can be defined through modern system development approaches such as UML. In particular they have several papers which describe agile approaches to controlled user interface design.
There's also a growing movement which is trying to apply patterns to user interface design. I've been disappointed in the books so far, but the following two sites have useful pattern catalogues: